President's Corner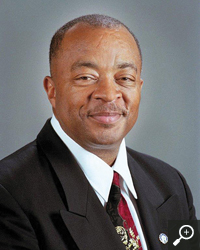 Sisters and Brothers unite!!!
Our conference was a success. I hope it lit that fire for our brothers and sisters who attended. In turn I hope you went home to spread the news amongst your local members.
We have an enormous responsibility this year. Three challenges are in front of us. Number one is we must be united. We have a lot of enemies and adversaries. We must first unite against our common foes. We can easily be defeated in any battle no matter how small if we are not united. We must be aware of assaults on our union and way of life. I believe we must keep the Declaration and Objects of the IBEW Constitution at the forefront. These two parts of the Constitution form the foundation upon which our Constitution is built. When we become distracted by race, national origin, gender, sexual identity, religious beliefs or politics we become weaker. Our adversaries utilize any and all of our differences to divide us. For instance when that member of color, that member that comes from another country, that member that is a female, that member who happens to be LGBTQI, that member who practices a different faith or no faith at all and that member who disagrees with your politics; is taking your job. Just remember that is a job being held by an IBEW member. We have a large tent and it must get larger. ORGANIZE! ORGANIZE! ORGANIZE!
Number two is the census. Each and every person in the United States and territories must be counted. Not every citizen but EVERYBODY. This determines the number of representatives depending on the growth or decline in population of your area. This determines how much money is allocated to your area over the next 10 years. This determines the financial support of your area which means services and infrastructure. This translates to jobs and quality of life. If your neighbor doesn't get counted you will have to share those reduced dollars with your neighbor. Now you only have 50 cents to go to the dollar store. Do your part. It is your responsibility to make sure everyone gets counted.
The third is the upcoming election. We have local, state and national elections on the horizon. It is important to remember that we have a responsibility to vet each and every candidate. As EWMC members we must also support the local union and our communities in efforts to register every citizen. After we have helped in registration, we must help in voter turnout. Our effort must be focused on encouraging every registered voter to turn in a ballot. Letting them know that their ballot is the most important ballot to be cast. The misinformation and distractions of 2016 caused us to lose sight of our goal. We can ill afford for this to happen again. Don't tell anyone how to vote or who to vote for but give them factual information.
We now have a worldwide pandemic that is causing us to think and behave differently. Our sense of who we are and what is important is being challenged. With this health crisis on top of us it is difficult to pause and reflect. These last three and a half years we as a country have become more interested in bullying our way around the world. We as a country have become obsessed with how much money we make. Now we are beginning to realize that no matter how much money we have and no matter our place of power; COVID-19 could care less.
The current administration has finally after over sixty days from the time COVID-19 reached our shores started to figure it out. I warned my son of the impending danger on January 20th. The POTUS declared that "it would miraculously go away". POTUS also said "it is a Democratic hoax". Not until the stock market took a huge dive and thousands of Americans had died did he begin to take appropriate steps to keep Americans safe. Too little too late for too many. Don't sell your vote for "thirty pieces of silver". This pandemic is not of his doing but hopefully it will be his undoing. If it is not his undoing, it will be the undoing of America as we have known it. Not just for us but for our children, grandchildren and great-grandchildren.
Please take this COVID-19 serious. Listen to your healthcare professionals. Follow their instructions. This will last who knows how long, but we'll get through it together. Acquiring what we need but not hoarding. Keeping a safe distance from all persons (family and friends included). With the technology today we can have multi-party conversations, with video. Checking on those whose resources or support may fall short without your help.
I know this is a lot to digest. Take small bites and chew thoroughly. We must take care of ourselves first and foremost. That way we can take care of loved ones and help others.
In Solidarity,
Keith Edwards
EWMC International President
Keithedwards.ewmc@gmail.com
Page Last Updated: Apr 02, 2020 (23:31:20)