President's Corner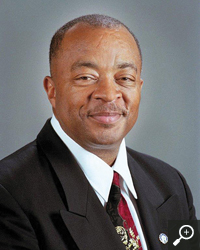 Greetings Sisters and Brothers,

I hope you are all doing well in health, family and prosperity. Again this year, our conference was a success. We owe a debt of gratitude for the work done by our conference coordinator, the planning team and especially the behind the scenes efforts of the Houston EWMC Chapter. We had over 600 delegates in attendance. Our Day of Service had over 300 volunteers performing over 3,000 hours of service. The caucus raised $12,000 for Magnificat House, a local charity.
Prior to the beginning of the conference on Wednesday, a modified version of the BLTI (Breakthrough Leadership Training Institute) was delivered by Dorothy Fortier, Royetta Sanford, Robbie Sparks, Donna Hammond, Carolyn Williams and myself. The training was made available to two officers from each chapter. According to the participants, the training was beneficial.
The Houston Chapter hosted the Friday night event at the Buffalo Soldiers Museum. The event had a great band, good food and was also very educational. We work hard. We play hard.
We had good speakers at the conference who emphasized our theme "Bridging the Divide: Standing United for Justice, Equity & Diversity". There were nine workshops on Saturday that were well attended and covered such topics as Conflict Resolution; Leadership Communication Styles; Implicit Bias, Equity & Inclusion; Standing Together Against Harassment; Financial Literacy, Benefits and Money Management; Traveling the Pathway of the IBEW-Understanding its Structure; Speaking from the Heart; and Organize! Organize! Organize!
The awards/scholarship, dinner-dance gala was well attended and the delegates had a great time. Different awards were presented for: Lifetime Achievement (Eagle), Greg Lucero, BM/FS LU 66; the Robbie Sparks (North Star) award to Bea Andrews, LU 613; Chapter President award to Steven Gonzales, LU 716; Chapter award to the Houston Chapter and a first time Humanitarian Award to Luis Alvarez, LU 3. We also awarded three scholarships to children of EWMC members.
At the gala, I made a statement which unfortunately offended the delegates from Michigan. However, that was not my intent and I apologized to the delegates from Michigan at the opening on Sunday morning. Given that all delegates who may have heard my remarks Saturday did not hear my apology on Sunday, I apologize here for my remarks that offended.
The conference delegates elected an expanded executive committee. The officers were elected without opposition and the atlarge executive committee members grew to 11 with eight incumbents being re-elected and Ticha Albino, LU 353 First District, Sean Bagsby, LU 46 Ninth District and Robert Madrigal, LU 47 Ninth District also being elected. I am proud to say that with the addition of another executive committee member from the First District we will now have two voices sharing issues that impact our sisters and brothers from the First District. The election comes a reconfiguration of responsibilities as the 11 at-large members of the executive committee will be responsible for supporting the chapters. This transition will be seamless and will enable the officers to focus solely on their specific duties. Also, this will allow the EWMC to run more efficiently. Your executive committee has new email addresses which will make it easier for us to communicate. The new email addresses are firstnamelastname.ewmc@gmail.com. Beginning March 1, the executive committee will no longer be using their personal email for EWMC business.
As you can see, the work continues as we change for the better. There will be more changes but we will not make changes without you in mind. That means your input is valued and necessary for our growth.
I want to acknowledge the great work our chapter presidents have been doing over the past year. Their work in the political arena made a big difference in the political landscape. For example, with the assistance of the SoCal Chapter three historically red congressional districts were turned blue in Southern California. However, we cannot rest on our laurels. Our political efforts must be ramped up to continue our 2018 successes so that 2020 has the same if not better outcomes. We must also prepare for the 2020 census (U.S) and 2021 census (Canada). As you know, the 2020 census results will impact us through 2030. The 2021 census will impact us through 2026. We will visit this topic in the near future.
I will close with a quote from Frederick Douglass, "It is easier to build strong children than to repair broken men (people)."

In Solidarity,
Keith
2018 Message
As events in Washington, D.C. continue to dominate the political news we have to keep our eye on the prize. I'm sure many people are now having regrets because of their behavior on November 8th, 2016. Whether they voted for 45, didn't vote for 45 or didn't vote at all. However, we don't have time for looking backwards. I often rely on my African roots to keep me focused.

Information regarding the EWMC
Greetings Sisters and Brothers, I hope this message finds you and your families well. In these days of so much misinformation and distortion of the truth it is hard to make sense of anything. Recently there has been some misinformation regarding the EWMC. Here is the truth. No local union has been sued because of any association or affiliation with the Electrical Workers Minority Caucus.

I Am 2018
I Am 2018 The I Am 2018 event in Memphis, TN began on Monday, April 2nd and culminated on Wednesday, April 4th. Labor folks, faith based folks and community folks came from near and far to answer the call to action for racial and economic justice. Most of the events were held at the world headquarters of C.O.G.I.C. where Dr.

Page Last Updated: Feb 25, 2019 (12:04:46)